Reno-Sparks Market Report - Inventory and Percent of Sales -- March 3, 2017
Posted by Jeff Sallan on Friday, March 3rd, 2017 at 6:22am.
Let's take a look at the existing housing inventory and sales statistics by price range for the Reno-Sparks area, as of February 27th.
Local housing inventory and affordability have been main topics of conversation in the real estate industry and in the media for a while now. The good news is, as of the end of February, overall inventory was up 14.2% year-over-year. Inventory was higher for almost every price range compared to this time last year. The most notable changes occurred in the $300,001 - $600,000 and over 1.5 million price ranges where 24% and 31% increases in availability were seen respectively.
When we look at absorption by price range, we still see a strong seller's market in homes priced below $600,000. For homes priced below $300,000 there is currently 25 days of inventory emphasizing the need for more affordable homes in our market. For homes in the range of $300,001-$600,000, available inventory is 55 days, or about 1.8 months. The exceptionally low inventory in these price ranges means it is a great time to sell with little competition, and consider moving up to a higher priced home, where inventory is more available.
In the price range from $600,001 to $900,000, a shift towards a more healthy market was seen with an inventory of almost 5 months. In the territory above that price range, the market currently tends to favor the buyer. The months of inventory sits at 9.4 months for properties in the $900,000 to $1,500,000 range. For homes priced over $1,500,000, we have seen a dramatic increase in inventory since the beginning of 2016; currently with nearly a 4 YEAR supply.
It is good to remember that The National Association of REALTORS considers 5 to 6 months of inventory a healthy market, where neither buyers nor sellers have a distinct advantage.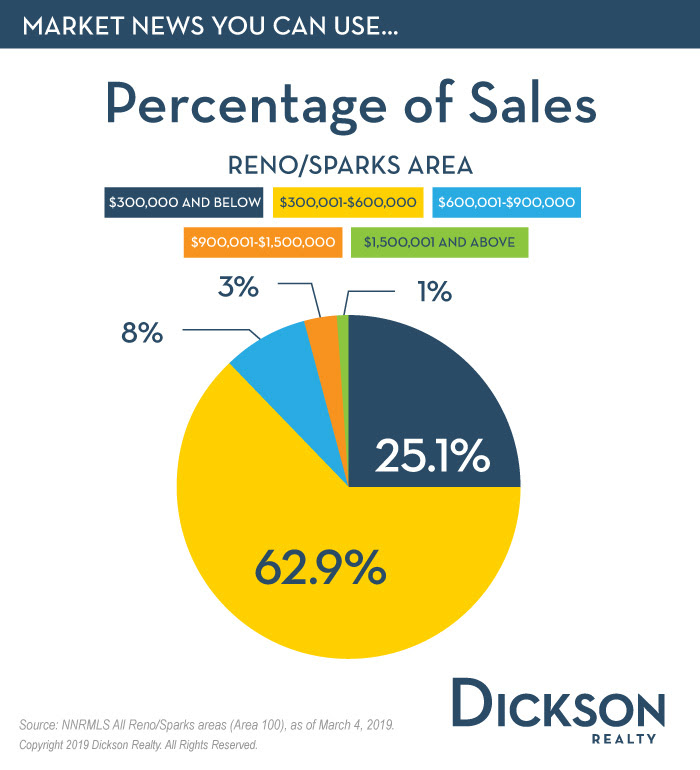 As we begin another calendar year, it's a good time to look at the Percentage of Sales by price range. Over 92% of all sales this year have been under $600,000, with 53.8% of sales occurring below $300,000. 38.8% of sales occurred between $300,000 and $600,000. Only 5.7% of sales this year have been between $600,000 and $900,000. The remaining 1.7% of sales were over $900,000.
The supply-demand equation continues to drive home prices up in the most affordable price ranges below $600,000. However, the pace of price increases is beginning to temper, and often depends on the neighborhood or area of town. Whether you are considering a move to downsize or to move up, now is a great time for us to speak to discuss your options.
Leave a Comment