Market Report - Inventory and Percent of Sales Reno/Sparks-- September 30, 2016
Posted by Jeff Sallan on Friday, September 30th, 2016 at 12:49pm.
Let's take a look at the existing housing inventory and sales statistics by price range for the Reno-Sparks area, as of September 26th.
The lack of local real estate inventory has been a main topic of conversation for many months. However, in September the trend of small month over month increases in available homes for sale continued. A year ago, there were 1,366 homes available for sale. At the same time this year, we have just over 1,600 homes available.
In the price ranges below $600,000, where 95% of sales occur, demand is still strong. A small increase in the number homes available for sale in these robust price ranges should not negatively impact demand, but I encourage my sellers to work closely with me on pricing.
When we look at the Reno/Sparks housing market by price range, we still see a strong seller's market in homes priced below $600,000. For homes priced below $300,000 there is a little over one month of inventory at 44 DAYS! For homes in the range of $300,001-$600,000, inventory has increased to just over 3 months, but still remains in Seller's Market territory. It is good to remember that The National Association of REALTORS considers 5 to 6 months of inventory a healthy market, where neither buyers nor sellers have a distinct advantage.
In the price ranges above $600,000 we have a greater inventory of available homes, and a shift toward more of a buyer's market. The months of inventory sits at just over 7 months for properties in the $600,001 to $900,000 range, while in the price range $900,000 to $1,500,000, the months of inventory is just over 14 months. For homes priced over $1,500,000, we have seen a dramatic increase in inventory since the beginning of the year; currently with nearly a 4 YEAR supply.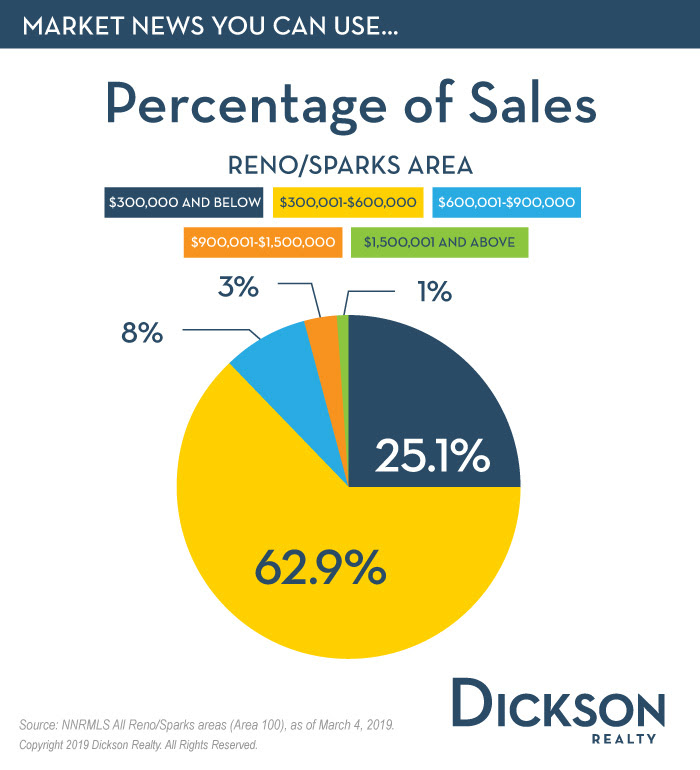 As we near the fall months, it's a good time to look at the Percentage of Sales by price range. Nearly 95% percent of all sales since the beginning of this year have been under $600,000, with 56% of sales occurring below $300,000. Over 38% of sales occurred between $300,000 and $600,000. Only 3.9% of sales this year have been between $600 and $900,000. The remaining 1.7% of sales were over $900,000.
While increased values are putting more sellers in a positive equity position, the supply-demand equation continues to drive home prices up. However, the pace of price increases is beginning to temper, and often depends on the neighborhood or area of town. Whether you are considering a move to downsize or move up, now is the time for us to speak to discuss your options.
1 Response to "Market Report - Inventory and Percent of Sales Reno/Sparks-- September 30, 2016"
Leave a Comment