Market Report - Inventory and Percent of Sales - Reno/Sparks-- November 3, 2017
Posted by Jeff Sallan on Friday, November 3rd, 2017 at 7:32am.
Demand for affordable housing in Reno-Sparks is high, and supply is low. This creates a challenging environment for home buyers and sellers alike. Let's take a look at the Reno/Sparks inventory and year to date sales statistics by price range.
As of October 31st, there were 990 homes on the market that were Active and Available for purchase. This is 5.2% fewer homes than the 1,044 on the market at the end of September and a staggering 34.4% fewer than the 1,508 homes on the market at this time last year. Sixty-eight percent, or 670 of the homes on the market today have asking prices under $600,000. In October 2016, 75% of available listings were under $600,000. Fewer than 20% of the homes on the market today have asking prices below $300,000, while 33% of available homes in October 2016 were asking $300,000 or below.
Now, let's talk about absorption rate by price range. The Absorption Rate, or Days of Available Inventory, is the amount of time it would take to sell off existing homes for sale if no additional homes came onto the market.
As expected, a strong seller's market has remained in prices below $600,000, often with competing offers in some neighborhoods. For homes priced below $300,000, we have only 18 days of inventory, emphasizing the great need for more affordable homes in the region. For homes in the range of $300,000-$600,000, available inventory is 52 days, or almost 2 months. That is the lowest inventory in the $300,000 to $600,000 price range since March of 2015. If you own a home in either of these price ranges, it is a great time to sell with little competition. It is also an excellent time to consider moving up to a higher priced home where more inventory is available.
With an inventory of 4.7 months, the $600,001 to $900,000 price range represents the most balanced market between buyers and sellers, but is starting to creep into seller market territory like the lower price ranges. In the territory above $900,000, the market begins a shift to favor the buyer. The months of inventory is 9.3 months for properties in the $900,000 to $1,500,000 range. For homes priced over $1,500,000, we have a 2.5 YEAR supply.
It is good to remember that The National Association of REALTORS considers 5 to 6 months of inventory a healthy market, where neither buyers nor sellers have a distinct advantage.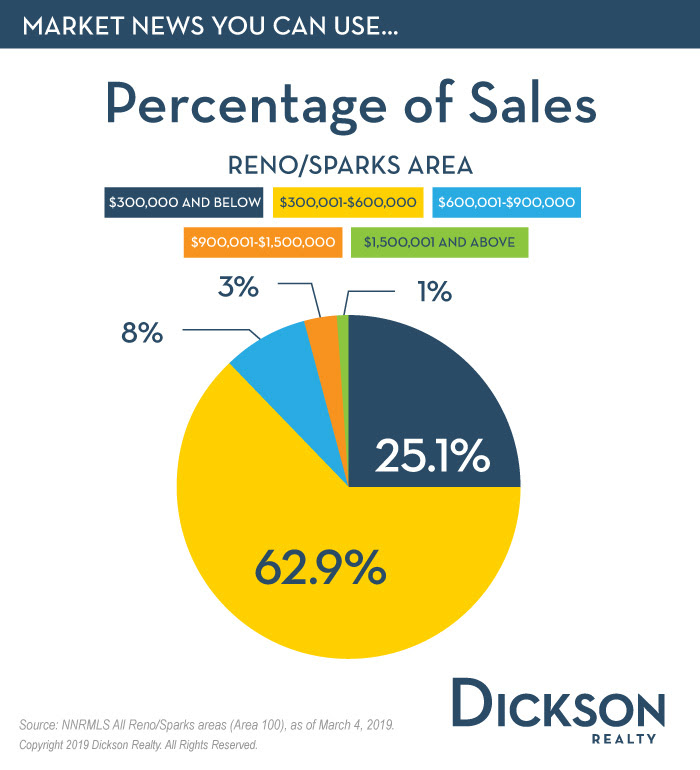 The strong summer selling season is continuing into fall, and we are on track for a record breaking year for the number of sales. Let's take a look at the Percentage of Sales by price range.
92% of all sales in Reno/Sparks this year have been under $600,000, with 45% of sales occurring below $300,000, and 47% of sales between $300,000 and $600,000. Only 5.6% of sales this year have been between $600,000 and $900,000. The remaining sales, or just 2.4% of all sales, were over $900,000.
The supply-demand equation continues to drive home prices up in the most affordable price ranges. However, the pace of price increases often depends on a specific neighborhood or area of town. Whether you are considering a move to downsize, move up, or even a move across town, now is a great time for us to speak to discuss your options.
Leave a Comment